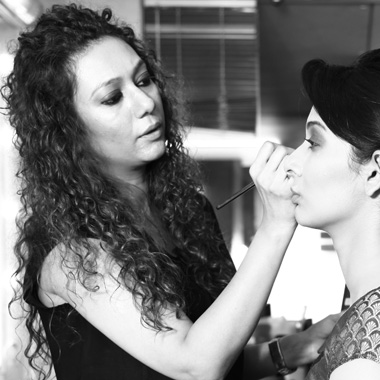 Following her father's footsteps and under his able guidance the second generation of the Christian family, Ms Aanall Christian (Creative Director) has undoubtedly learnt from the best. With laudatory remarks from prestigious international institution Ms Aanall Christian has excelled in the art of Advance Makeup.
With successfully leading the team at 'La Femme' her exposure is clearly apparent. With her own shows & seminars, published articles, television presence, photo shoots, magazine cover pages etc Ms Aanall Christian quotes John Ruskin, "When love & skill work together, expect a masterpiece".
Also with her marked expertise in hair, makeup & skin treatments combined with her business acumen inherited from her parents Aanall Christian has taken 'La Femme' to new found heights. She started her career in 1997, with unparalled grit & determination to ensure 'La Femme' is what it is today.
Aanall has also successfully trained the physically impaired, women who are deaf & mute and haven't been fortunate enough. These women have all the reasons to be eternally grateful, as they gain their confidence, support their families & also worth a mention is they have started their own salons. Aanall has done commendable work with these women and has given this profession a whole new dimension.
In March 2013 & consecutively in 2014 Franchise India bestowed upon 'La Femme -The Best Stand-Alone Salon of The Year' for the Western Region.