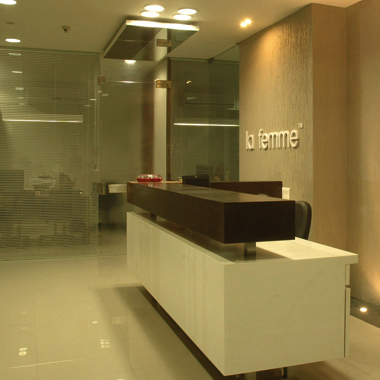 "My legacy would be that you don't have to give up anything. You can be chic but have a sense of humor, you can be sexy but comfortable, you can be timeless but fresh." – Michael Kors
'La Femme' is a French phrase which literally means 'the woman'- a concept that came into existence by a man in 1968, when it was unfathomable in a city like Ahmedabad. The very first of its kind back then 'La Femme' was a brand in the making. Inception, innovation & introduction to the hair & makeup industry Mr Satish Christian created a legacy with 'La Femme'. 'Beauty lies in the eyes of the beholder' is now a mere fallacy and its subjectivity has been proven otherwise with 'La Femme' ensuring every woman walks out feeling beautiful inside out.
'La Femme' was started with a vision by a young man who defied all stances of the salon world, and turned common place pursuit into a recognizable art form. Still standing tall & managed personally by the Christians this salon boasts of years of experience & talent. Most of the team members have been with the father-daughter duo for five decade. Pioneers in customized bridal styling which includes hair & makeup the state-of-the-art salon indeed has a widespread appeal.
Extremely well known figures in the salon industry in Ahmedabad the Christians have ensured they live up to their name. Abreast with the latest & updated with technology 'La Femme' has the best of both, the old & the new. With the marked standing of excellence & experience Mr Satish Christian & the newness of the young & the latest his daughter Aanall Christian are definitely creating magic!